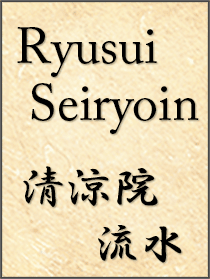 Ryusui Seiryoin
Japanese novelist
Mystery and Business book author, Comic book scenario writer, and Japanese to English translator
Chief Editing Officer of The BBB
He was born in 1974. In 1996, his debut novel won the 2nd Mephisto Prize. Thereafter, he has published nearly 70 books and 12 related comic books.
His works are not limited to specific genres. Recently, he is involved in educating people about the English language. His TOEIC score is 985 (CEFR level: C1).
* With regard to author interviews, check the Media Coverage & Event Information page.
Related Works List at The BBB
Works List in Japan
01. COSMIC: Detective Myth at the End of the Century
Kodansha Novels / September, 1996

02. JOKER: Detective Myth as the Old Testament
Kodansha Novels / January, 1997

03. JUKE BOX: New Mystery Genesis
Kodansha Novels / July, 1997

04. CARNIVAL EVE: The Biggest Mystery in World History
Kodansha Novels / December, 1997

05. L: All Japan Rock-paper-scissors Tournament
Gentosha Novels / February, 1998

06. CARNIVAL: The Final Mystery in World History
Kodansha Novels / April, 1999

07. CARNIVAL DAY: The Anniversary of New World History
Kodansha Novels / September, 1999

08. All Japan Rock-paper-scissors Tournament
Gentosha Bunko / November, 1999

09. U: New TV Program Attended by All Japanese
Gentosha Novels / December, 1999

10. TOP RUN Vol. 1 Here Is the Front Line
Gentosha Bunko / April, 2000

11. COSMIC -RYU-
Kodansha Bunko / April, 2000

12. JOKER -SEI-
Kodansha Bunko / April, 2000

13. JOKER -RYO-
Kodansha Bunko / May, 2000

14. COSMIC -SUI-
Kodansha Bunko / May, 2000

15. TOP RUN Vol. 2 My Lover Is a Kidnapper
Gentosha Bunko / June, 2000

16. TOP RUN Vol. 3 The Loan for Ransom
Gentosha Bunko / August, 2000

17. TOP RUN Vol. 4 Quiz for the Turnover
Gentosha Bunko / October, 2000

18. TOP RUN Vol. 5 Concentration on the Last Episode
Gentosha Bunko / December, 2000

19. TOP RUN Vol. 6 Continue the Great Voyage
Gentosha Bunko / February, 2001

20. Secret Master -RED-
Kodansha Novels / April, 2001

21. Secret Master -WHITE-
Kodansha Novels / April, 2001

22. Double Drive -INN-
Kodansha Bunko / August, 2001

23. TOP LAND 2001 Angel Episode 1
October, 2001 /

24. TOP LAND 1980 Gentleman Episode 1
April, 2002 /

25. TOP LAND 2002 Warrior Episode 1
October, 2002 /

26. Mystery-and-real CHARA NET
Kadokawa Sneaker Bunko / November, 2002

27. The Bomb of the Secret Room
Kodansha Novels / December, 2002

28. CARNIVAL: A Flower
Kodansha Bunko / January, 2003

29. CARNIVAL: Anemone Flaccida
Kodansha Bunko / February, 2003

30. CARNIVAL: Triple Layers
Kodansha Bunko / March, 2003

31. CARNIVAL: Four-wheel Cow Carriage
Kodansha Bunko / April, 2003

32. CARNIVAL: The Bible of the Truth
Kodansha Bunko / May, 2003

33. Hundreds of Millions of Human Commercial Scandal
Gentosha Bunko / October, 2003

34. The Simons Case Vol. 1 Ultimate Magic Circus
kodansha Novels / January, 2004

35. The Simons Case Vol. 2 Upside Down Masterpiece
kodansha Novels / January, 2004

36. CHARA NET: The Case Book of the Idol Detective
Kadokawa Shoten / March, 2004

37. TOP RUN and LAND -END-
Gentosha Bunko / April, 2004

38. Secret Master: The Final Truth
Kodansha Bunko / August, 2004

39. TOKUMADEYARU
Tokuma Dual Bunko / August, 2004

40. TOKUMATSU: Yagiri Mansion Case
Tokuma Dual Bunko / March, 2005

41. BRANDISH?
Gentosha / November, 2005

42. TOKUMARU
Tokuma Dual Bunko / March, 2006

43. The Bomb of the Secret Room: Quiz Show
Kodansha Bunko / May, 2006

44. Professor Chara in Successology: The Method to Get 40 Million Yen
Kodansha Box / Nevember, 2006

45. RED BOOK: The Rain Waltz (*co-author)
Gentosha / December, 2006

46. What a Perfect World! Vol. 1 One Ace
Kodansha Box / January, 2007

47. What a Perfect World! Vol. 2 Two to Tango
Kodansha Box / February, 2007

48. What a Perfect World! Vol. 3 Three Cheers
Kodansha Box / March, 2007

49. What a Perfect World! Vol. 4 Four Winds
Kodansha Box / April, 2007

50. The Complete Edition of CHARA NET: Idol Detective Novel
Kadokawa Bunko / April, 2007

51. LOVE LOGIC -Honey and Punishment-
Kadokawa Shoten / April, 2007

52. What a Perfect World! Vol. 5 Five-star
Kodansha Box / May, 2007

53. What a Perfect World! Vol. 6 Sixth Sense
Kodansha Box / June, 2007

54. What a Perfect World! Vol. 7 Seventh Heaven
Kodansha Box / July, 2007

55. What a Perfect World! Vol. 8 Figure of Eight
Kodansha Box / August, 2007

56. What a Perfect World! Vol. 9 On the Cloud Nine
Kodansha Box / September, 2007

57. What a Perfect World! Vol. 10 Ten Commandments
Kodansha Box / October, 2007

58. What a Perfect World! Vol. 11 Eleven-plus
Kodansha Box / November, 2007

59. What a Perfect World! Vol. 12 Perfect Twelve
Kodansha Box / December, 2007

60. The Simons Case Vol. 1 Magicians Come and Draw the Curtain
Kodansha Bunko / April, 2008

61. The Simons Case Vol. 2 White and Night
Kodansha Bunko / April, 2008

62. The Simons Case Vol. 3 The Simon Clan
Kodansha Bunko / May, 2008

63. COSMIC ZERO: Japan Annihilation Plan
Bungeishunju / May, 2009

64. BLACK or WHITE: The Institute for Perfect Crimes
Ohta Shuppan / May, 2009

65. Forgetting Love
Stardust Pictures / June, 2009

66. Detective Ritual THE NOVEL: Mephisto Syndrome Case
Kadokawa Shoten / July, 2009

67. King In The Mirror
PHP Institute / October, 2010

68. Everything I Have Learned from Novel for 15 Years
PHP Institue / September, 2011

69. COSMIC ZERO: Japan Annihilation Plan
Bunshun Bunko / May, 2012

70. Gupta in Wonderland
ALC Press Inc. / April, 2013