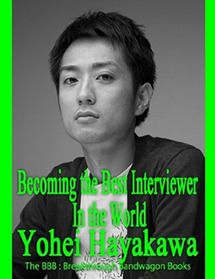 Becoming the Best Interviewer In the World:
The BBB Interview Selection
Translator: Ryusui Seiryoin
Cover Photo: Yohei Hayakawa
Cover Design: Tanya
Release Date: July 24, 2013
You can preview the beginning part of this book for FREE by clicking "preview" below the book cover at Lulu.
Description
Yohei Hayakawa is renowned as "the only professional interviewer" in Japan. His free podcast program, The Book Changing Your Life (later renamed Kikumaga), which debuted in 2008, was downloaded more than 200,000 times a month and placed first on the iTunes Store Podcast charts (for Japanese). This has made him famous among the Japanese, and he has since been interviewing Japanese people from various fields. So far, he has conducted well over 1,000 interviews.
Now, for the first time, Hayakawa is not the interviewer, but the interviewee, as he shared his experiences with us. This book itself could become one "changing your life".
This interview was exclusively conducted as one of the made-in-Japan content belonging to The BBB: Breakthrough Bandwagon Books.