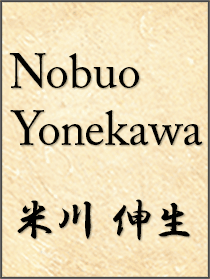 Nobuo Yonekawa
Japanese Kaiten-sushi Critic
He was born in 1966. When only 5 years old, he was fascinated by kaiten-sushi (conveyer belt sushi). After that, he has visited more than 4,000 kaiten-sushi restaurants in Japan and abroad, and collected over 350,000 sushi pictures so far.
Having graduated from a university, he was engaged in many kaiten-sushi feature programs on TV and in magazines as a writer. In 2007, he won a kaiten-sushi championship held in a TV program "TV Champion 2", and got his honorific title of "King of Kaiten-sushi".
Currently serving as an executive director of Japanese Kaiten-sushi Society as well as a critic and consultant with his vast knowledge, he is devoting himself to the spreading of kaiten-sushi.
Works List in Japan
01. Delicious Kaiten-sushi Guidebook 2010
Futabasha / October, 2009

02. Business Theory of the Revolving Sushi Bar
TOYO KEIZAI / September, 2011

03. Exquisite Kaiten-sushi in the Tokyo Metropolitan Area
Kadokawa Magazines / September, 2013
Sponsored Links