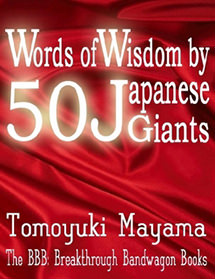 Words of Wisdom By 50 Japanese Giants
Translator: Ryusui Seiryoin
Cover Design: Tanya
Release Date: August 2, 2015
About the Japanese version of this work, refer to the counterpart of our Japanese website.
Description
"Life without failure is boring. It is as if it has no history." (By Soichiro Honda)
"There is no path ahead of me. A path forms behind me." (By Kotaro Takamura)
"I do not care about what people say about me. Only I know what I am doing." (By Ryoma Sakamoto)
Business owners, novelists, painters, movie director, baseball players, warlords in the Sengoku period, samurai, Buddhist monks, and Bakumatsu politicians, just to mention a few. Here are the finest words of wisdom by Japanese giants, many of whom are household names in Japan. This is the exquisite collection by Tomoyuki Mayama, who is known as the great authority on words of wisdom.
This work was exclusively written as one of the made-in-Japan content belonging to The BBB: Breakthrough Bandwagon Books.
Works List at The BBB
08/02/2015
Sponsored Links