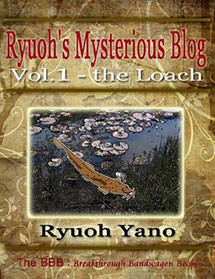 Ryuoh's Mysterious Blog Vol.1 - the Loach
Cover Illustration: Ryuoh Yano
Cover Design: Tanya
Release Date: January 21, 2013
Description
Ryuoh Yano, a Japanese mystery writer, has another job as a systems engineer. One day, he is ordered to move to Kobe for work. He leaves his lovely family in Tokyo to start a new, lonely life in Kobe. To ease his loneliness, he purchases some pets: two small, cute loaches.
Yano was to start a new life with his new pets, but inexplicable, mysterious incidents started happening to them. Although Yano tried to solve the mystery as a mystery writer, he couldn't believe an unexpected truth he finally saw in the end.
This work was exclusively written for The BBB: Breakthrough Bandwagon Books.
Works List at The BBB
06/26/2013

01/21/2013
Sponsored Links