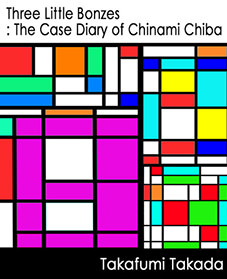 Three Little Bonzes: The Case Diary of Chinami Chiba
Translator: Ryusui Seiryoin
Cover Design: Tanya
Release Date: January 29, 2014
Description
Three young boys visited a resort during their summer vacation and happened to witness a boy running away after apparently his stealing watermelons. Following the boy, they strayed into a temple deep in a mountain. It is said that the old temple was managed by raccoon dogs deceiving people. Then, they met three little bonzes, identical triplets, who had exactly the same look.
Little Bonze A is always honest.
Little Bonze B always lies.
Little Bonze C alternately lies and tells the truth.
Which little bonze knows the truth?
This is a blessed hybrid of a logic puzzle and a mystery fiction by Takafumi Takada, one of very popular Japanese novelists. Most of the world should first experience such an amazing masterpiece.
This work was first published in 2001 by Kodansha and translated in 2014 for The BBB: Breakthrough Bandwagon Books.
Sponsored Links