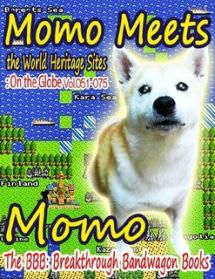 Momo Meets the World Heritage Sites: On the Globe Vol.051-075
Translator: Tanya
Cover Photo: Momo
Cover Design: Tanya
Release Date: March 29, 2016
This eBook is basically FREE. But some online bookstores can charge for it. About the Japanese version of this work, refer to the counterpart of our Japanese website.
Description
Momo is a female shiba dog. After leaving Japan (her home country), she is now traveling to visit World Heritage Sites on the globe.
In Venice, she enjoyed having her picture taken with people wearing masks and gorgeous dresses. At the Sulayman Mountain in Kyrgyzstan, she was looking for a prophet's magical ring. At the Sans-Souci Palace in Haiti, she was shuddering with fear while hearing a ghost story. In Kinderdijk in the Netherlands, she felt giddy after watching the fans of windmills.
Allured by nice smell of foods, Momo is taking a walk wherever her feet lead her. What type of new friends will she meet in this journey?
This is the story regarding Momo's heartwarming adventures.
This work was exclusively created for The BBB: Breakthrough Bandwagon Books.
Sponsored Links