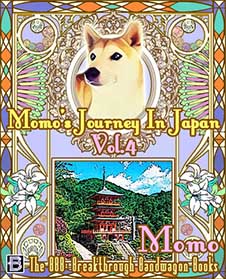 Momo's Journey In Japan Vol. 4
Translator: Tanya
Cover Design: Tanya
Release Date: July 28, 2021
This eBook is basically FREE. But some online bookstores can charge for it. About the Japanese version of this work, refer to the counterpart of our Japanese website.
Description
Momo is a female Shiba dog.
This time Momo's destination is "Sacred Sites and Pilgrimage Routes In the Kii Mountain Range," one of the World Heritage Sites in Japan. The routes seemed to stretch over three prefectures; Wakayama, Mie, and Nara.
In the middle of winter, Momo has arrived at Mount Yoshino in a snowy landscape. As Momo wanders along the pilgrimage route, the season changes to spring, with cherry blossoms in full bloom.
In this adventure, what encounter will Momo experience? And what will she think about?
Each episode also includes detailed information about the World Heritage Sites Momo visits and local maps!
This work was exclusively created for The BBB: Breakthrough Bandwagon Books.
Sponsored Links