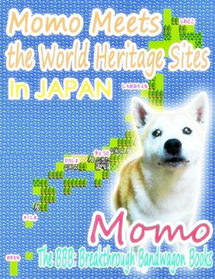 Momo Meets the World Heritage Sites In Japan
Translator: Tanya
Cover Photo: Momo
Cover Design: Tanya
Release Date: July 29, 2014
This eBook is basically FREE. But some online bookstores can charge for it. About the Japanese version of this work, refer to the counterpart of our Japanese website.
Description
Momo is a female shiba dog living in Japan. Miserably, she was once abandoned by her ex-owner. But then, she was adopted by a kind girl named Tanya and could lead a happy, new life with her and her mother.
One day Tanya showed her a book featuring so-called the World Heritage Sites. Momo was so inspired by them that she decided to visit the World Heritage Sites in Japan.
This is the story regarding Momo's heartwarming adventures.
This work was exclusively created for The BBB: Breakthrough Bandwagon Books.
Sponsored Links