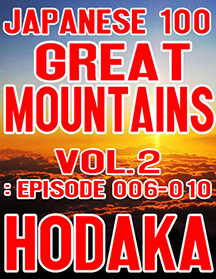 Japanese 100 Great Mountains Vol.2: Episode 006-010
Translator: Hodaka
Photographs: Hodaka
Cover Design: Tanya
Release Date: March 29, 2018
This eBook is basically FREE. But some online bookstores can charge for it. About the Japanese version of this work, refer to the counterpart of our Japanese website.
Description
Hodaka, a Japanese mountaineering photographer, has restarted from scratch the challenge to conquer "Japanese 100 Great Mountains" since 2017. This record, the second volume of the series, includes five (the 6th to 10th) mountains.
- Mount Aizu-Komagatake features grand moors on the mountaintop. He enjoys sky-walking in the picturesque scenery.
- Mount Hotaka has been a worshipped mountain. He climbs up steep cliffs with chains.
- In the "Panorana Ginza" of the Northern Alps, he traverses several mountains while savoring magnificent views.
- Mount Utsukushi-ga-hara is too easy for him to climb, but he is fully satisfied with an excellent hotel.
- After climbing Mount Ryokami, he is fascinated by an impressive "Waraji-katsu" (cutlets like straw sandals).
Montaineering, hot springs, local cuisine, breathtaking sceneries, memorable encounters with amiable climbers ...
You will witness Hodaka's exciting challenge!
Sponsored Links