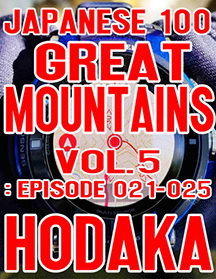 Japanese 100 Great Mountains Vol. 5: Episode 021-025
Translator: Hodaka
Photographs: Hodaka
Cover Design: Tanya
Release Date: December 14, 2019
This eBook is basically FREE. But some online bookstores can charge for it. About the Japanese version of this work, refer to the counterpart of our Japanese website.
Description
Hodaka keeps conquering great mountains in Japan one after another. This record, the fifth volume of the series, includes five (the 21st to 25th) mountains.
- The first mountain he aims for in 2019 is Mount Tanigawa. He sees a snow mountain like the cumulonimbus, which once made him want to be a mountaineer.
- In Mount Kobushi, he tries a wristwatch with GPS function for the first time.
- His first challenge after the new era name "Reiwa" starts is to visit Mount Hoo. Conquering the three great mountains, he recalls the past climbing.
- In Mount Azumaya, he eventually savors the soft ice cream, which he has been wanting for four years.
- In Mount Nantai, he tries the night climbing, which is allowed only during the designated week in summer, and gives three cheers at the summit while appreciating the sunrise.
The sceneries of the mountain changing due to the weather and the encounters with other climbers are all once-in-a-lifetime chance.
You will witness Hodaka's exciting challenge!
Sponsored Links