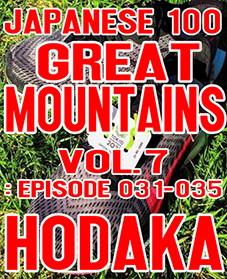 Japanese 100 Great Mountains Vol. 7: Episode 031-035
Translator: Hodaka
Photographs: Hodaka
Cover Design: Tanya
Release Date: January 30, 2023
This eBook is basically FREE. But some online bookstores can charge for it. About the Japanese version of this work, refer to the counterpart of our Japanese website.
Description
Hodaka keeps conquering great mountains in Japan one after another. This record, the seventh volume of the series, includes five (the 31st to 35th) mountains.
- Mount Hotakadake, which he gave up climbing ten years ago due to bad weather, is a special mountain from which his name "Hodaka" comes. What awaited him at the summit of this third-highest peak in Japan was a majestic sunrise.
- From Mount Hotakadake to Mount Yari, he risked his life to traverse the precipitous cliffs, which are said to be one of the most difficult in Japan, and which cannot be missed even by a single step. Hodaka once again enjoyed the exceptional moment of sunrise.
- Hodaka climbed Mount Bandai, an independent mountain that is one of the symbols of Fukushima Prefecture, at a time when the state of emergency for COVID-19 had been lifted. Hodaka boldly tried climbing beside the "Yellow Falls," an icefall that can only be seen during the severe winter season.
- Hodaka visited Mount Norikura during the Tokyo Olympics, which had been postponed one year and were held in 2021. Heading to the bus terminal at the highest point in Japan, Hodaka boarded a "sunrise bus" and experienced the fantastic Brocken specter at the top of the mountain.
- Hodaka ascended Mount Yake, the only active volcano in the Northern Alps, in a cloud of smoke and sulfur. After descending, he had the memorable experience interacting with a collector of rare butterflies.
Also, an extra article "My Tokyo Marathon Experience" is included at the end of this eBook. It's a fulfilling account of Hodaka's run in the Tokyo Marathon, which was postponed for two years due to the pandemic of COVID-19.
You will witness Hodaka's exciting challenge!
Sponsored Links