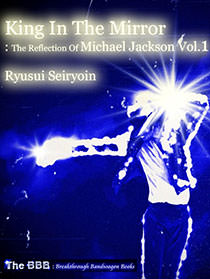 King In The Mirror : The Reflection Of Michael Jackson Vol.1
Translator: Ryusui Seiryoin
Cover Illustration: Kai Chamberlain
Cover Design: Tanya
Release Date: November 28, 2012
This eBook is basically FREE. But some online bookstores can charge for it. About the Japanese version of this work, refer to the counterpart of our Japanese website.
Description
Born into an impoverished large family in Gary, Indiana, a boy was to become the youngest singer to have a #1 hit in the United States as a member of The Jackson 5 and the first to inscribe his name in music history.
Later, he made Thriller, the highest selling album on the planet. His music crossed all borders, achieving many unprecedented feats one after the other. This book is a fictionalized true story, a type of self-help book, and aims to discover truths about our own life from that of the legendary King of Pop, Michael Jackson.
This work is the first half of a book originally published by PHP Institute in Japan in 2010 and rewritten for English readers in 2012. This made-in-Japan content belongs to the BBB: Breakthrough Bandwagon Books.
Sponsored Links