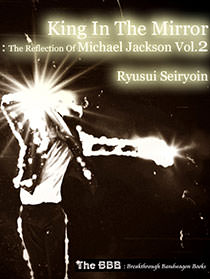 King In The Mirror : The Reflection Of Michael Jackson Vol.2
Translator: Ryusui Seiryoin
Cover Illustration: Kai Chamberlain
Cover Design: Tanya
Release Date: November 28, 2012
Description
After Michael Jackson achieved the greatest success in music history, he was confronted by many exhausting problems such as fabricated child abuse allegations, betrayals by trusted people, and mental abuse from people all around the world.
He was knocked down from heavenly euphoria to hellish despair. How could he be reborn and complete his life as THE artist in history?
This work is the latter half of a book originally published by PHP Institute in Japan in 2010 and rewritten for English readers in 2012. This made-in-Japan content belongs to the BBB: Breakthrough Bandwagon Books.
Sponsored Links