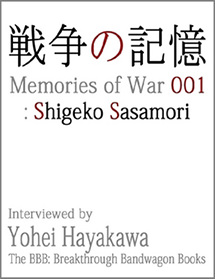 Memories of War 001: Shigeko Sasamori
Editorial Support: Akiko Ogawa
Translator: Hitomi Kuroda
Cover Design: Tanya
Release Date: June 25, 2015
This eBook is basically FREE. But some online bookstores can charge for it. About the Japanese version of this work, refer to the counterpart of our Japanese website.
Description
Yohei Hayakawa leads a project titled "Memories of War", which leaves voices of the people who survived World War II. Almost 70 years after the war, the number of people who survived the war is decreasing every year. That is why Hayakawa has decided to leave their 'voices'. He is not supporting any specific organization, and he is not agitating any thoughts.
On August 6th, 1945, Shigeko Sasamori was only 13 when she experienced the atomic bomb in Hiroshima. She saw a sliver airplane glittering in the blue sky. Suddenly, something white fell. She was deeply injured with a big burn scar on her body, but recovered somehow after her parents sacrificed themselves taking care of her.
Then 10 years after the atomic bomb incident, she went to the US to have surgery for Keloid, and later an American journalist Mr. Norman adopted her. 'These are the thoughts of God.' Praying for the peace for Japan, she talked about her experience in Hiroshima.
Sponsored Links