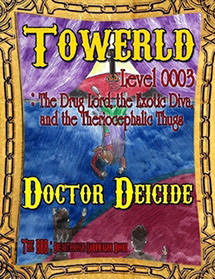 Towerld Level 0003: The Drug Lord, the Exotic Diva, and the Theriocephalic Thugs
Cover Illustration: Polka D
Cover Design: Tanya
Release Date: April 26, 2014
* The collection of ten stories including this work is also available.
This eBook is basically FREE. But some online bookstores can charge for it. About the Japanese version of this work, refer to the counterpart of our Japanese website.
Description
When the mailpersons enter the farm floor and approach the suite, the situation gets as hazy as the murky air. Hector_1304 is clobbered by the beast-headed gatekeepers, encounters Haloom Ghoude, the drug lord, and witnesses the exotic Pluck Princess taking a fall.
The Pluck Princess plans to perform musically in the ritual on a distant floor. Hector_1304 proposes a new assignment to protect her and the musical instruments to the ritual. By doing so, he hopes that he gets closer to the summit of Towerld, the existence of which he is not sure of.
Gideon, the drugged forger, fears the plot to purge him and his icon, the Pluck Princess. Out of desperation, he makes the drastic move to sneak into the suite to rescue her.
Is Hector_1304 going to choose the convoy mission to the ritual? Or, will he die hard with the fancysick forger and end the journey?
This work was exclusively written as one of the made-in-Japan content belonging to The BBB: Breakthrough Bandwagon Books.
Sponsored Links