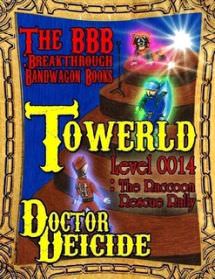 Towerld Level 0014: The Raccoon Rescue Rally
Cover Illustration: Polka D
Cover Design: Tanya
Release Date: September 3, 2017
* The collection of ten stories including this work is also available.
About the Japanese version of this work, refer to the counterpart of our Japanese website.
Description
Towbie the Twisted conducts the Raccoon Rescue Rally. The winner of the event obtains the right to marry Wendy, the postal princess. Hector_1304 wants to establish a polygamous relationship with Wendy and Ephemera. He has to participate in and win the event to reclaim the right to make Wendy his bride.
The entrants are; Hector_1304, the Stairway Shieldian, the Detachables (Belestekoff the Legs and LeMarr the Arms), JoJo (also known as many other aliases), the Wild Cards (the Fay Ministress and Benny_2319), and Prop-Alla-Din. Who is the favorite, heel, underdog, wild card, or dark horse? Who are willing to win the competition more strongly? Is there any collusion among the participants? Why is the Stairway Shieldian acting so strangely?
Towbie the Twisted adds a twist to the event, to showcase his not-so-secret weapon, named Prop-Alla-Din to many other floors in Towerld. Can anyone escape from, or prevail over the mean meat-grinding menace?
When the dust settles, a new star is born.
This work was exclusively written as one of the made-in-Japan contents belonging to The BBB: Breakthrough Bandwagon Book.
At the following, you can download a musical track, 5-7-5-7-7-beat drums for the fight songs, performed by the mysterious performers (the Barrier-free Band?).

* For Windows, press the right mouse button.
For Mac, press the control key and the mouse button.
Sponsored Links