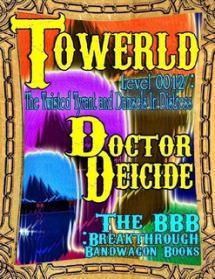 Towerld Level 0012: The Twisted Tyrant and Damsels In Distress
Cover Illustration: Polka D
Cover Design: Tanya
Release Date: January 15, 2017
* The collection of ten stories including this work is also available.
About the Japanese version of this work, refer to the counterpart of our Japanese website.
Description
Whatever has happened to the Pluck Princess, who is now missing? Who can possibly knock unbeatably fleet Wendy unconscious?
Hector_1304 and the strange companions head for the barrier-free floor, to search for the Pluck Princess and to apologize to Towbie about failing the mission. The Stairway Shieldian speaks of his life story and the history of Towerld. What are the stairway floor and the 'treadnauts'? The ongoing feud between the disabled and the able-bodied people is sinfully deep, as much as the grudge between the wheeler-dealer and the Stairway Shieldian.
At the entrance of the barrier-free floor, they encounter the gizmo goons in black suits. The one behind this innovative method of 'subhuman' resource cultivation is shocking and expected.
Towbie the Twisted, who is even outdoing the drug lord, reveals his spies and the secrets involving the feminist floor. What is his method of "the wrong people in the wrong places"?
By the way, this is time to worry about Gideon, not the wedding.
This work was exclusively written as one of the made-in-Japan content belonging to The BBB: Breakthrough Bandwagon Books.
Sponsored Links