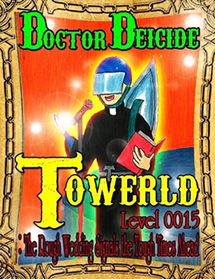 Towerld Level 0015: The Rough Wedding Signals the Tough Times Ahead
Cover Illustration: Polka D
Cover Design: Tanya
Release Date: January 7, 2018
* The collection of ten stories including this work is also available.
About the Japanese version of this work, refer to the counterpart of our Japanese website.
Description
Now that the Raccoon Rescue Rally is over, the much-anticipated public wedding ceremony comes next.
The Wild Cards (the Fay Ministress and Benny_2319) seem to want to speak to Towbie the Twisted about the issue pertaining to the reason for their having been the spies. Do they have any reason to have anything to do with the Pluck Princess and her friends? The diva is all ears for what they want to confess.
Under the watch of the Stairway Shieldian doing a part-time job out of his profession, the wedding ceremony commences.
Hector_1304 is polygamously engaged to Wendy and Ephemera. Which of the brides will he kiss first during the oath of marriage? Whom will he give the bridal lift to? In order to deal with the issue pertaining to how to prioritize the treatment of his brides, he has a trick up his sleeves.
The Pluck Princess will give her groom, Towbie, a memorable "smack" that may signal what awaits their married life and the destiny of the grand caravan to the trade tier.
This work was exclusively written as one of the made-in-Japan contents belonging to The BBB: Breakthrough Bandwagon Book.
At the following, you can download a musical track (without the bass guitar and rhythm guitar) for the wedding march, performed by the Barrier-free Band.

* For Windows, press the right mouse button.
For Mac, press the control key and the mouse button.
Sponsored Links