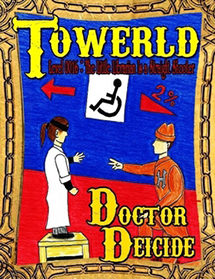 Towerld Level 0016: The Little Librarian Is a Straight Shooter
Cover Illustration: Polka D
Cover Design: Tanya
Release Date: May 1, 2018
* The collection of ten stories including this work is also available.
About the Japanese version of this work, refer to the counterpart of our Japanese website.
Description
Finally, the Barrier-free Brigade and the expedition team have just initiated the caravan along the barrier-free spiral slope, toward the trade tier.
Hector_1304, a bibliophile, utilizes the libraries that are located along the path of the journey, to try to discover many unknowns, including the secrets of Towerld and his birth. In one of the libraries, he meets a very strange, little librarian.
She is a dwarf in a lab coat, with a brass-colored eye wearing a monocle. As she shows off her knowledge, she is not telling Hector everything that he wants to know. Instead, she is encouraging Hector to commit an unthinkable act. As he is becoming helpless, who is coming to the rescue?
Who is this monocled midget? What does she want to do? Who is her target, Hector or somebody else? For what reason? When Towbie Rhoentey Malgrokk, the Twisted Tyrant speaks of what he knows about the mysterious midget, the enigma becomes murkier than ever.
The straight shooter is aiming at the target. Beware!
This work was exclusively written as one of the made-in-Japan contents belonging to The BBB: Breakthrough Bandwagon Books.
At the following, you can download a musical track for the little librarian, performed by the Barrier-free Band. (Can you believe that she has her own soundtrack?)

* For Windows, press the right mouse button.
For Mac, press the control key and the mouse button.
Sponsored Links