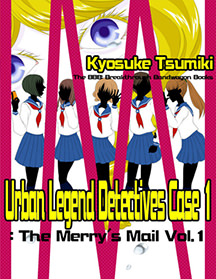 Urban Legend Detectives Case 1: The Merry's Mail Vol.1
Translator: Ryusui Seiryoin
Cover Illustration: Maki Takeuchi
Cover Design: Tanya
Release Date: April 27, 2013
* Bind Up (Vol. 1 and Vol. 2) of this work is also available.
This eBook is basically FREE. But some online bookstores can charge for it. About the Japanese version of this work, refer to the counterpart of our Japanese website.
Description
After a girl dumped an old European doll named Merry, which she once used to adore, an email message "Why did you throw me away?" was sent to her and Merry was back to take revenge ...
Such a childish urban legend was told among high school girls in amusement, but one of them was killed brutally on deserted road at night. Then, a ghastly chain email pervaded the school and a real Merry appeared on the police investigation.
This book is the first half of the work exclusively written for The BBB: Breakthrough Bandwagon Books.
Sponsored Links