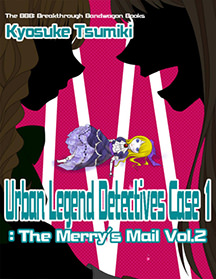 Urban Legend Detectives Case 1: The Merry's Mail Vol.2
Translator: Ryusui Seiryoin
Cover Illustration: Maki Takeuchi
Cover Design: Tanya
Release Date: April 27, 2013
* Bind Up (Vol. 1 and Vol. 2) of this work is also available.
This eBook is basically FREE. But some online bookstores can charge for it. About the Japanese version of this work, refer to the counterpart of our Japanese website.
Description
Is the real murder case connected to the urban legend "Merry's Mail"? Detective Kobayashi, who belongs to the Tokyo Metropolitan Police Department, started paying closer attention to the mysterious Merry.
In the course of the investigation, he was appointed to "Urban Legend Detectives" with his co-worker Sarutobi, an attractive girl who is a descendant of a prominent Japanese ninja clan. At the end of the case, they found out the forbidden truth which normally could never be reached.
This book is the latter half of the work exclusively written for The BBB: Breakthrough Bandwagon Books.
Sponsored Links