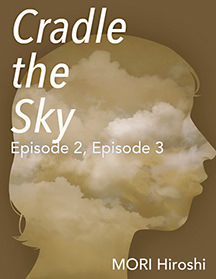 Cradle the Sky: Episode 2, Episode 3
Translator: Ryusui Seiryoin
Cover Illustration: mm
Cover Design: mm
Release Date: November 01, 2020
* The complete edition including all the episodes is also available.
Description
I do not even remember who I am. I was shot in a phone booth at a train station by Kusanagi, my former superior officer. However, I am still alive. Was it a dream? The boundary between dream and reality is terribly blurry, and I cannot understand anything for sure. I am living in a dream-like reality. Or, maybe it is a dream like reality. The only wish I have is to be shot by her again.
I want to be shot.
I want her to shoot me.
I want to experience the heat within my heart just once more ...
And then, I meet Kusanagi again.
While wishing that she is not an illusion, I am confronting her, face-to-face.
Only the final episode remains to be told in "Cradle the Sky", the final (5th) novel of "The Sky Crawlers" series.
Sponsored Links