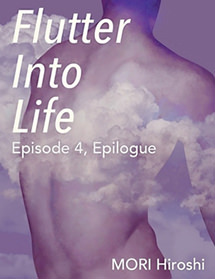 Flutter Into Life: Episode 4, Epilogue
Translator: Ryusui Seiryoin
Cover Illustration: mm
Cover Design: mm
Release Date: February 29, 2020
* The complete edition including all the episodes is also available.
Description
After leaving the battlefront due to an injury, I spend boring days in a facility known as the laboratory. One day, I am summoned to join a large-scale operation, and get on a fighter aircraft for the first time in several months.
Aircrafts on both sides confront each other above the ocean. Our team lunges at the center of the enemy flight formation, and encounters a formidable one whose aircraft has a cat's face on it.
While consort aircrafts are shot down one after another, I attempt to duel with the mightiest foe, but ...
This is the final installment of "Flutter Into Life", the fourth novel of "The Sky Crawlers" series.
At the end of the book, "The Interview About Flutter Into Life with Dr. MORI, Hiroshi" is also included.
Sponsored Links