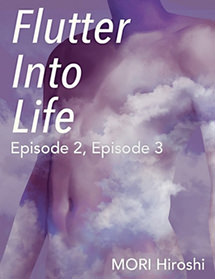 Flutter Into Life: Episode 2, Episode 3
Translator: Ryusui Seiryoin
Cover Illustration: mm
Cover Design: mm
Release Date: October 30, 2019
* The complete edition including all the episodes is also available.
Description
"I want you not to meet that woman."
Suito Kusanagi, my superior, asks me so, and I intend to obey her. But, I accidentally reencounter an enigmatic woman named Sagara. From what she speaks, I am convinced that there has been a fateful relationship between the two women since a long time ago.
Then, on the day a festival to promote the community activities with the locals is held at the airbase, Sagara visits me.
"No matter what, I need your cooperation."
Because of the secret she knows about Kildren, large organizations like police and the state are pursuing her. It is hard to believe this. To what extent is she telling the truth? While being tossed about by Sagara, I am forced to make a significant decision.
This work, the second installment of "Flutter Into Life", reveals the shocking truth of the beings known as Kildren.
Sponsored Links