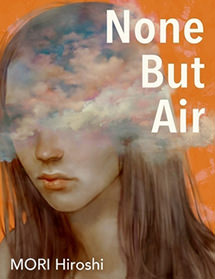 None But Air
Translator: Ryusui Seiryoin
Cover Illustration: mm
Cover Design: mm
Release Date: February 28, 2018
Description
Dr. MORI, Hiroshi, the greatest treasure of the Japanese publishing industry, admits "The Sky Crawlers" series is his masterpiece. "None But Air" is the second novel of the series and takes place in the earliest chronological phase of the entire storyline. This much-anticipated complete edition comes with Prologue, Episodes 1-4, and Epilogue.
As I admire a genius pilot whose codename is "the Teacher", I also take off into the sky. In the place which is none but air, I can surely feel myself only when I am innocently facing enemies and dancing like a bird.
I was not born to love someone.
I was not born to be loved by anyone.
Just lightly ...
I was born to fly.
The story leading to "The Sky Crawlers", the finale of the series, has commenced here.
At the end of the book, "The Interview About None But Air with Dr. MORI, Hiroshi" is also included.
Sponsored Links