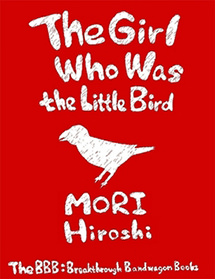 The Girl Who Was the Little Bird
Translator: Ryusui Seiryoin
Cover Illustration: Polka D
Cover Design: Tanya
Release Date: December 26, 2013
* The collection of seven stories including this work is also available.
Description
One night a man hit by a car was taken to Shimaoka Hospital, when the head of the hospital was murdered and the guy disappeared. A little bird, the only clue of the missing suspect, later flew away from a window. Then, a mysterious girl showed up in front of a doctor, the son of the victim, and said, "I was the little bird." If she were the bird witnessing the murder, what could she know?
This is the MORI Mystery, Japanese mystery legend. Finally, the world meets Dr. MORI, Hiroshi, one of the most popular novelists in Japan.
This work was first published in 1999 by Kodansha and translated in 2013 for The BBB: Breakthrough Bandwagon Books.
Sponsored Links