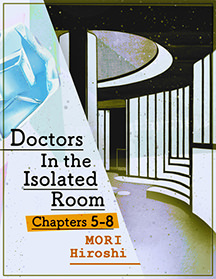 Doctors In the Isolated Room: Chapters 5-8
Translator: Ryusui Seiryoin
Cover Illustration: mm
Cover Design: mm
Release Date: October 31, 2023
* This work is expected to also be available on Amazon Kindle, Apple iBooks, Rakuten Kobo, etc. We will add the link on this page after the distribution starts.
Description
As the investigation into the mysterious locked-room murders at the Polar Environment Research Center's experimental facility progressed, the third body was discovered in a secret room that had been hidden away, further deepening the mystery.
Sohei Saikawa, an associate professor at N University, and his student Moe Nishinosono, a sophomore, were present at the scene of the discovery of the PERC serial murders when they visited Associate Professor Kita, a close friend of Saikawa, and became involved in the case. While Kita and Moe offered their respective reasonings, Saikawa, for some reason, refused to give his own opinion.
With information obtained from her uncle, prefectural police chief Shosuke Nishinosono, Moe quickly got close to the truth of the case, but the clutches of the culprit who did not like it are closing in on her ...
In order to save Moe, his cherished apprentice and is in a tight spot, the always calm Saikawa runs wild on the night road in his beloved Civic, which is one of the most famous scenes in the "S&M (Saikawa & Moe)" series.
This book is the second volume of a three-volume English edition of "Doctors In the Isolated Room," which strengthens the bond between the master-disciple detective duo most favored by readers in the history of Japanese mystery!
Sponsored Links