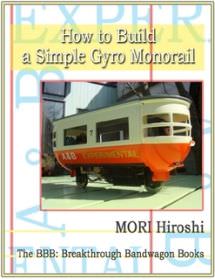 How to Make a Simple Gyro Monorail
Translator: Ryusui Seiryoin
Illustrations: Kozo Hiraoka
Cover Design: Tanya
Release Date: March 30, 2017
This eBook is basically FREE. But some online bookstores can charge for it. About the Japanese version of this work, refer to the counterpart of our Japanese website.
Description
Dr. MORI, Hiroshi is a popular novelist and also known as a modeler. After studying theories and repeating the experiments, he got a sense of achievement from his gyro monorail (Prototype No. 9). Then, he has decided to rebuild Prototype No. 7, as a smaller model than No. 9.
He used no special parts, stuck to simple craft procedures, and kept the size of the car manageable. More than anything, the car conforms to the design that is so reminiscent of railroad trains. Dr. MORI discloses the parts list and drawings, and then takes great care in explaining them in detail with significant points, so that many people can learn from them and build the gyro monorails of their own. This eBook passionately features the practical guideline for building gyro monorails.
"Theories and Experiments for Gyro Monorails" is also available. is also available.
(This work first appeared on 2010 August issue of a Japanese monthly magazine "Hobby of Model Railroading" by Kigei Publishing.)
Sponsored Links