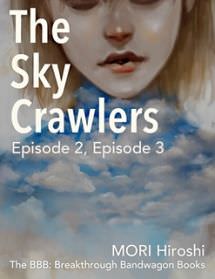 The Sky Crawlers: Episode 2, Episode 3
Translator: Ryusui Seiryoin
Cover Illustration: mm
Cover Design: mm
Release Date: October 30, 2016
* The complete edition including all the episodes is also available.
Description
I am still a child.
At times, my right hand kills humans.
Instead of that.
I would probably let someone's right hand kill me.
"Kildren" (children who are capable of living eternally in adolescence) aviate their fighter aircrafts and shoot enemies down every day. In order to continue to live as children, they have to engage in the war, to kill time.
Some of them die in combat. The cockpits of aircrafts rocking in dark waves are coffins for the pilots. In the dead silence of the deep sea, what method of death would those painfully pure-hearted ones wish for?
This is the second installment of "The Sky Crawlers", which the whole world has been craving for. The story soars skyward into the higher altitude.
[Special Offer to the Purchasers]
If you have purchased all of the three separate volumes ("The Sky Crawlers: Prologue, Episode 1", "The Sky Crawlers: Episode 2, Episode 3", and "The Sky Crawlers: Episode 4, Episode 5, Epilogue"), we will offer you, as a special privilege, "The Interview About The Sky Crawlers with Dr. MORI, Hiroshi", which is included at the end of the complete edition of "The Sky Crawlers".

If you qualify for and are interested in receiving the special offer, please contact us via e-mail at the address written above, with the title "Interview About The Sky Crawlers" as the subject. In the e-mail, we would like you to write your name, write your e-mail address, and attach the image (jpg or png) that proves your having purchased the three volumes of eBooks mentioned above.
Animation movie version (directed by Mamoru Oshii)
Sponsored Links