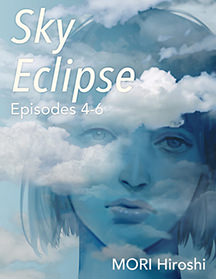 Sky Eclipse: Episodes 4-6
Translator: Ryusui Seiryoin
Cover Illustration: mm
Cover Design: mm
Release Date: October 31, 2021
* The complete edition including all the episodes is also available.
Description
The final volume of "The Sky Crawlers" series (the masterpieces of Dr. MORI, Hiroshi) is the only short story compilation. Episodes 4-6 of the eight short stories are featured in this book.
In "Episode 4: Spit Fire," a young pilot rides his motorcycle on the road at night, with his female boss on the back, and ponders the secrets of God that an old drunken man claims to have witnessed.
In "Episode 5: Heart Drain," Kai, who aspires to make a career in the information bureau in order to put the past behind her, meets for the first time Kusanagi, a pilot with a challenging look in her eyes that reminds Kai of what she once used to be.
In "Episode 6: Earth Born," the elusive presence of the woman known to the pilots as Fuko, who comes and goes like cigarette smoke, leaves the afterglow in the shadow of her absence.
The newly presented pieces of the short stories congregate and reveal the saga that has been lurking in the background of the novels.
And the next book, the final book of the Sky Crawlers series, awaits you after this!
Sponsored Links