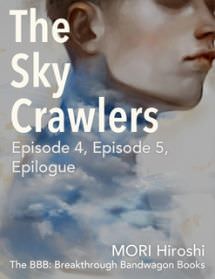 The Sky Crawlers: Episode 4, Episode 5, Epilogue
Translator: Ryusui Seiryoin
Cover Illustration: mm
Cover Design: mm
Release Date: February 28, 2017
* The complete edition including all the episodes is also available.
Description
Do we care or not about coming back to the same place again when taking off from the runway?
I do not care about such a miracle.
When flying above the clouds and viewing the stars in the heavens, I can forget about the things that lie in the future.
I can exchange my whole life with leaving the ground, or with the distance from the ground.
I never doubt the outrageousness.
The important point is whether we have such spirits of children or not.
The story about the formidable children named "Kildren", who kill each other in the eternal flow of time, concludes with deadly silence. At the same time, magnificent "The Sky Crawlers" series starts from this masterpiece.
To the skies of the whole world, their pure spirits continue to ascend boundlessly.
[Special Offer to the Purchasers]
If you have purchased all of the three separate volumes ("The Sky Crawlers: Prologue, Episode 1", "The Sky Crawlers: Episode 2, Episode 3", and "The Sky Crawlers: Episode 4, Episode 5, Epilogue"), we will offer you, as a special privilege, "The Interview About The Sky Crawlers with Dr. MORI, Hiroshi", which is included at the end of the complete edition of "The Sky Crawlers".

If you qualify for and are interested in receiving the special offer, please contact us via e-mail at the address written above, with the title "Interview About The Sky Crawlers" as the subject. In the e-mail, we would like you to write your name, write your e-mail address, and attach the image (jpg or png) that proves your having purchased the three volumes of eBooks mentioned above.
Animation movie version (directed by Mamoru Oshii)
Sponsored Links