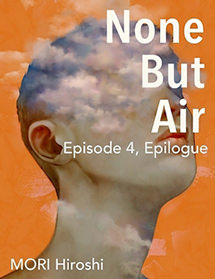 None But Air: Episode 4, Epilogue
Translator: Ryusui Seiryoin
Cover Illustration: mm
Cover Design: mm
Release Date: February 28, 2018
* The complete edition including all the episodes is also available.
Description
"Every pilot admires you. Everyone wants to be a pilot like you ..."
The Teacher is the aim for me, obviously.
Because I want to be a pilot like him, I came to this airbase.
As a pilot, I am approaching the one I admire, little by little.
But, when the distance between us becomes zero, he suddenly leaves me and disappears.
"I believe we will meet again someday."
Then, in the sky, I encounter an enemy aircraft, on which a black cat is drawn.
I recall the question I once asked him in the past.
"Why are you called the Teacher?"
The first episode of the Teacher and me ends, and the new story commences here.
[Special Offer to the Purchasers]
If you have purchased all of the three separate volumes ("None But Air: Prologue, Episode 1", "None But Air: Episode 2, Episode 3", and "None But Air: Episode 4, Epilogue"), we will offer you, as a special privilege, "The Interview About None But Air with Dr. MORI, Hiroshi", which is included at the end of the complete edition of "None But Air".

If you qualify for and are interested in receiving the special offer, please contact us via e-mail at the address written above, with the title "Interview About None But Air" as the subject. In the e-mail, we would like you to write your name, write your e-mail address, and attach the image (jpg or png) that proves your having purchased the three volumes of eBooks mentioned above.
Sponsored Links