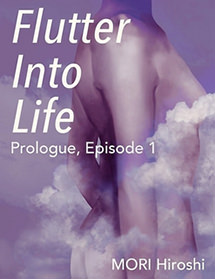 Flutter Into Life: Prologue, Episode 1
Translator: Ryusui Seiryoin
Cover Illustration: mm
Cover Design: mm
Release Date: June 30, 2019
* The complete edition including all the episodes is also available.
Description
As fighter pilots, we constantly engage in extreme aerial combats, to the extent that we may die from being shot down by enemies. I secretly stop by a house owned by a mysterious woman who raises birds. She appears to be a relative of Honjyo, who was shot down and died a little while ago. While I know so little about who she is, I continue to visit her place. Suito Kusanagi, my superior officer, has come to notice my meeting her, and shows a peculiarly repulsive reaction.
"Still, if possible ... I want you not to meet Sagara."
Whatever have happened in the past between Kusanagi and the enigmatic woman?
Kusanagi also seems to have an unusual relationship with the most formidable enemy, whose aircraft is decorated with a cat marking.
What secrets lie in the past of Kusanagi, a Kildren, and the deep core of the mystery that she tries to hide?
"Flutter Into Life", the 4th novel of "The Sky Crawlers" series, beginning to reveal the grandness of the entire picture, is launched and available now.
Sponsored Links