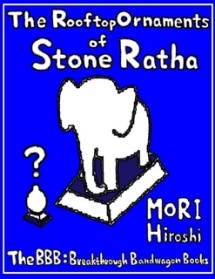 The Rooftop Ornaments of Stone Ratha
Translator: Ryusui Seiryoin
Cover Illustration: Polka D
Cover Design: Tanya
Release Date: October 29, 2015
* The collection of seven stories including this work is also available.
Description
On a snowy night, Moe Nishinosono, an undergraduate student of N National University and a young lady from a prominent family, held a dinner party in the luxurious condominium building she owned, with Dr. Sohei Saikawa, her mentor, and others.
At Moe's request, Saikawa showed his treasured photograph to others. It was taken when late Dr. Kyosuke Nishinosono, Saikawa's mentor and Moe's father, visited India for research. Saikawa challenged others to solve the mystery pertaining to what was in the photograph.
"The finial, which was supposed to be placed on top of the pagoda, was made separately, attached to the ground nearby."
During the heated debate, the party attenders presented their own versions of reasoning to solve the mystery regarding the peculiarity of 'Five Ratha'. What shocking truth behind the mystery would they discover?
This is the first English version of the story from 'S&M (Saikawa & Moe) Series', one of the most coveted mystery fiction series in Japan.
This book was first published by Kodansha in Japan in 1999 and translated in 2015 for The BBB: Breakthrough Bandwagon Books.
Sponsored Links